Kömacel is an integral skin-foam sheet made of rigid PVC according to the Celuka process. Its positive characteristics make a multitude of applications possible. Practical experience has proven its quality.
Characteristics
fine-celled foam structure
firm, smooth outer skin of up to 2 mm thickness
surface with silk gloss finish
homogeneously colored
Advantages
high flexural strength
low weight
low thermal conductivity, high insulation resistance
absorption of vibrations
resistant to chemical substances and non-corroding
weatherproof and light-fast
low absorption of water, no rot
particularly easy workability
low flammability, fire behavior according to UL94-V0 thickness 4 mm
smooth surface, ideal for printing
very suitable for bonding
ready for indoor and outdoor use without pre-treatment
Areas of application
Advertising – Signs, displays, decoration of shop windows, exhibition stands
Building sector – Shop fitting, interior decorating, for rooms where resistance of humidity is required (bathrooms etc.), air-conditioning and
ventilation systems, heat and sound insulation, cladding, window and parapet elements, roller shutter boxes, door panels
Electrical industry – Control cabinets, channels for cables and wires, control panels
Miscellaneous – For containers, apparatus, models, equipment for photographic laboratories, electroplating, signs on building sites, shelves and table
tops in laboratories
Tolerances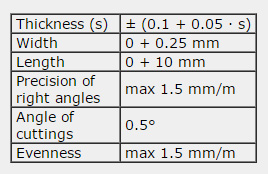 Properties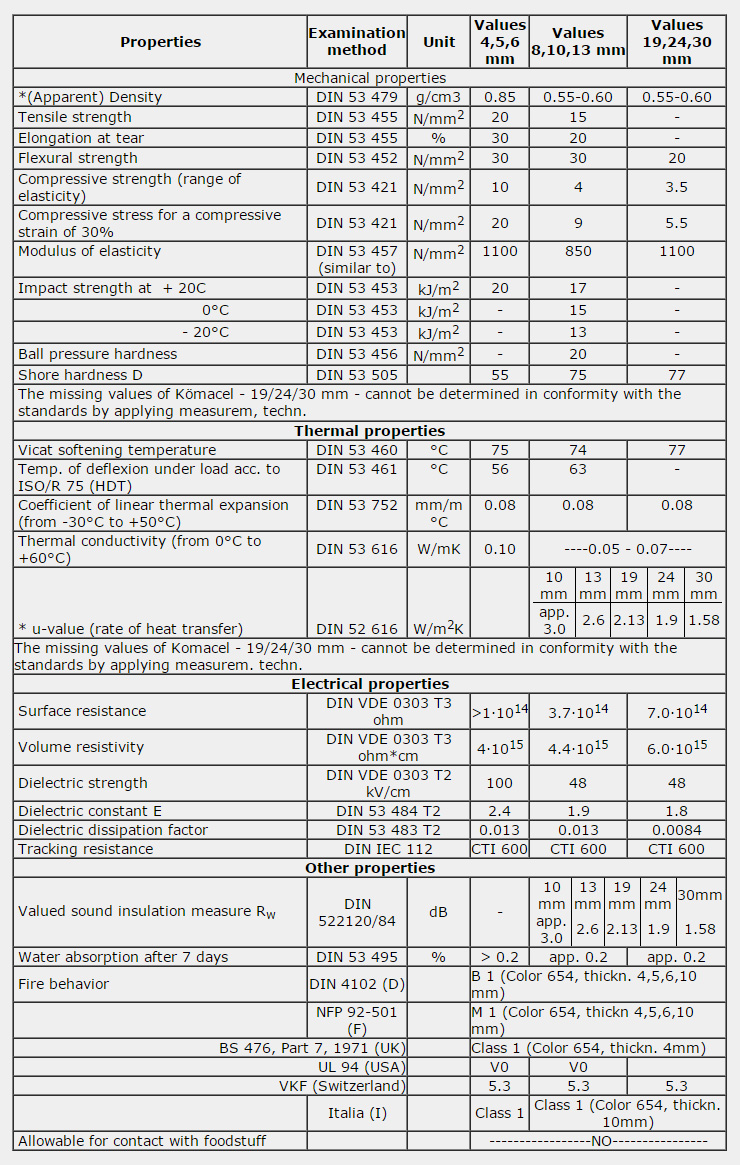 Working Directions
Machining
Kömacel sheets can be easily and quickly worked with standard tools and machinery used in the timber and metal-processing industries. They can be cut, sawn, turned, filed, drilled, planed, milled, screwed and polished. The tools must be sharp in order to prevent breaking and splitting. High cutting speed, low forward feed and low rate of cut should generally be used. Normally it is not necessary to cool the cutting tools, in special cases compressed air is sufficient.
Forming
Deep-drawing and blowing of Kömacel sheets is only possible up to a certain extent. The same applies to bending and folding.
Welding
Kömacel sheets can be welded according to the usual welding procedures; however, extreme care must be taken, since the foam might collapse.
Bonding
Kömacel sheets can be bonded with other Kömacel sheets or with different rigid PVC materials. Depending on the requirements and the type of application, different adhesives can be used. For bonding Kömacel sheets with other Kömacel sheets, adhesives containing solvents as well as solvent-free polyurethane adhesives are suitable.
Printing
Due to their smooth surface, Kömacel sheets can be easily printed, painted and lacquered. They are especially suitable for screen printing, for which special inks are used (the surface of the PVC is slightly etched, thus ensuring good adhesion. Ray-hardened inks are now also used; this process could, however, cause discoloration of the unprinted surfaces). The surface to be printed must be clean and free from grease.
Due to high absorption of heat, the printing of large surface areas with dark colors should be avoided when the sheets are exposed to direct sunlight.
Fixing recommendations
Kömacel sheets are made of thermoplastic PVC and, therefore, vary more in length than wood or metal working materials (please note the coefficient of linear thermal expansion). When installing screen-printed advertising boards in cricket or soccer stadium, or when fixing curtain-walling and cladding, a possible expansion of the sheets has to be taken into account.
The appropriate fixing method depends on the type of application.
Full-service plastics fabricator and supplier of plastic materials
[ ]

Welcome to Norva Plastics
Norva Plastics has been a full-service plastics fabricator and supplier of plastic materials. With over half a century in the business, we can tackle just about any job with confidence that comes from experience. From a tough prototype to long-run production, whatever your requirement, contact the experienced plastics fabricators first at Norva Plastics.
Norva Plastics provides many services relating to plastics and similar materials. We have 3 high precision CNC machines in house to handle high production jobs or for quick prototype jobs. We also do custom fabrication and also offer vacuum forming services. So contact us now! We look forward to serving you.