Suicide Reduction Shower Control Handles
Control knob is recessed so there are no hanging points
Universal adaption to all brands of valves …. $$$ major cost savings
The design prevents anything from being slid behind the knob handle
Handle cannot be remove because it is part of the faceplate
Made of high impact resin solid surface material
Handles for cold and hot water valves are available upon request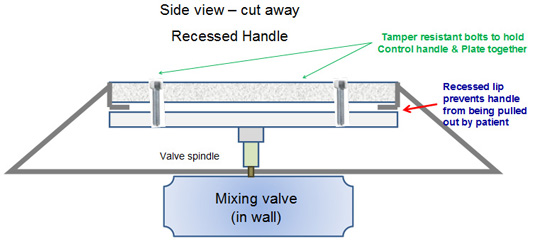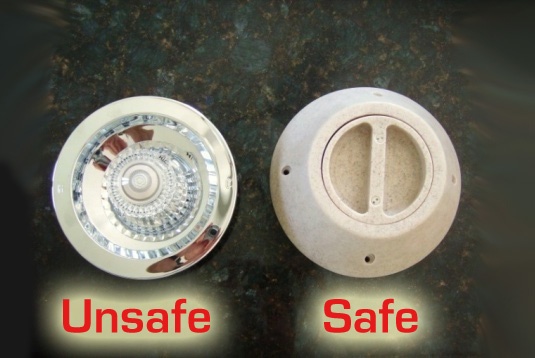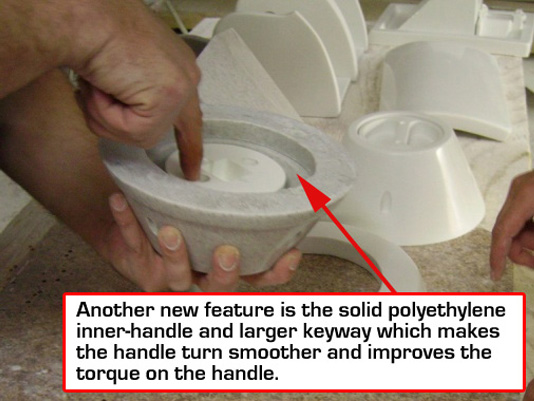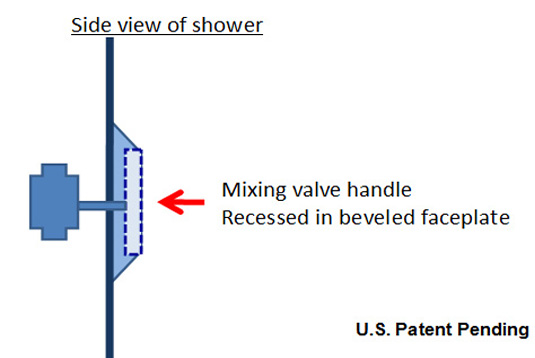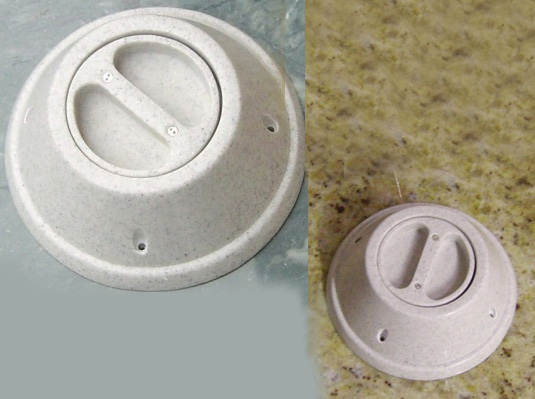 Prior to shipping your order of suicide Reduction faucets, we need the following information to ensure they properly fit your existing patient sinks. Please use the sheet on the left as a reference when filling out the order form.
DISCLAIMER
Products such as the one to which this disclaimer is attached are intended for use solely in supervised, secure settings. Norva Industries, Inc. ("Norva") products are designed to reduce, but not eliminate, the risk of suicide in mental health care facilities, hospitals, nursing homes, incarceration facilities and other environments using products such as ours. Norva products are not intended as a substitute or replacement for trained professionals' evaluation, management and supervision of people at risk of suicide or otherwise harming themselves or others. Norva recommends that such people be thoroughly searched and observed both prior to and during the time when they are in a facility where our products are in use.
Norva does not warrant, represent or otherwise assert that our products eliminate the possibility of being utilized as a ligature apparatus. Norva disclaims any liability in the event its product is used as a ligature apparatus and shall have no liability in the event of injury to persons, products or facilities using our products. It is our customer's responsibility to ensure that the products are utilized as intended and that the products are suitable for the environment in which they are installed.
Notwithstanding anything to the contrary in any purchase order, catalogue issued by Norva or any other sales materials or otherwise, to the extent permitted by applicable law, Norva makes no warranties and disclaims all warranties, express or implied, included the implied warranties of merchantability and fitness for a particular purpose with respect to the products and services provided by Norva. Norva makes no representations or warranties as to the quality, suitability or adequacy of the services or products except as expressly provided in writing.
Full-service plastics fabricator and supplier of plastic materials
[ ]

Welcome to Norva Plastics
Norva Plastics has been a full-service plastics fabricator and supplier of plastic materials. With over half a century in the business, we can tackle just about any job with confidence that comes from experience. From a tough prototype to long-run production, whatever your requirement, contact the experienced plastics fabricators first at Norva Plastics.
Norva Plastics provides many services relating to plastics and similar materials. We have 3 high precision CNC machines in house to handle high production jobs or for quick prototype jobs. We also do custom fabrication and also offer vacuum forming services. So contact us now! We look forward to serving you.