Suicide Resistant Sink/ Vanity Combo Unit
The suicide resistant vanity is made of 3/4″ thick high-impact, polyethylene material. It is unbreakable and will not crack or bend under high abuse.
The anti-ligature faucet is now considered a LEED product and has met all Federal standards to be considered a Green product.
The vanity is held together with tamper-resistant screws and metal L-brackets. Because of it's strength, there is no need for an additional bracket support for the sink component.
The vanity has built-in interior L-Brackets on its base and back side so that it can be fasten to the wall and floor securely.
The maintenance-plumbing access cover is held securely in place with tamper-resistant screws and cannot be open without the special driver that comes with each order.
The countertop and faucet comes pre-assemble and is made of high impact solid surface material. The sink component is glued and fasten to the vanity so that it cannot be removed.
The countertop is tailored and contoured to the vanity to prevent damage.
We can customize to your meet your needs.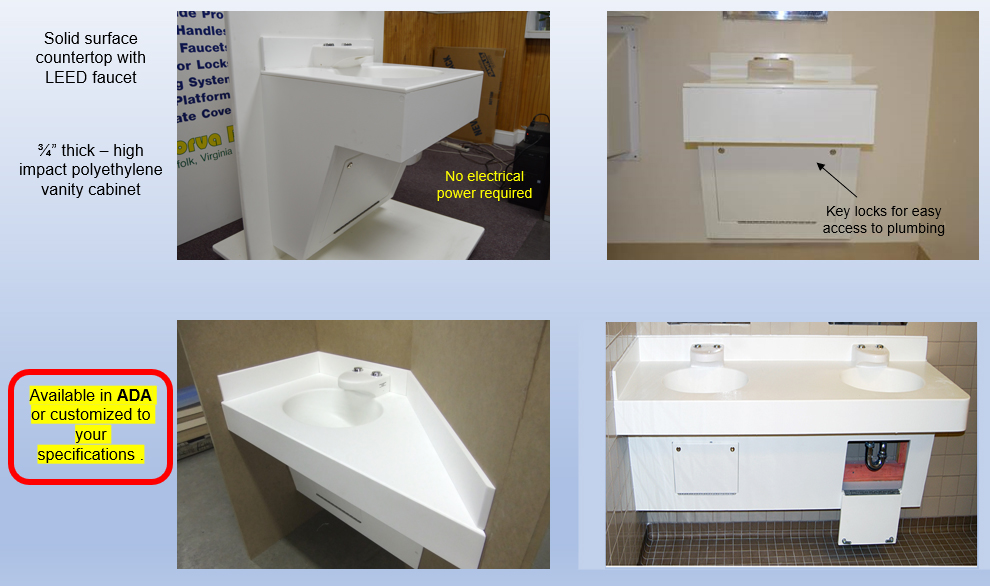 Full-service plastics fabricator and supplier of plastic materials
[ ]

Welcome to Norva Plastics
Norva Plastics has been a full-service plastics fabricator and supplier of plastic materials. With over half a century in the business, we can tackle just about any job with confidence that comes from experience. From a tough prototype to long-run production, whatever your requirement, contact the experienced plastics fabricators first at Norva Plastics.
Norva Plastics provides many services relating to plastics and similar materials. We have 3 high precision CNC machines in house to handle high production jobs or for quick prototype jobs. We also do custom fabrication and also offer vacuum forming services. So contact us now! We look forward to serving you.