HEALTHCARE AND MEDICAL PLASTICS
Norva Plastics carries a large selection of Suicide Prevention products to bathroom related items.

• Covid19, PPE Medical Supplies
• Sink faucets – Self-closing, push-button, metered faucets saving water and money
• Shower control handles – Control knob is recessed, no hanging points
• Soap dispensers – Secured to the wall is virtually indestructible, safe for patients
• Toilet paper dispensers – One piece impact resistant solid surface material
• ABS high-impact plumbing covers – Toilet and underneath sink plumbing covers
• Vanity sink combo units – LEED product meets federal standards
• Suicide prevention doors – Developed for Patient Human Rights surveyors to provide additional privacy.
• Suicide Prevention Door Handles, Patient Doors – Suicide Resistant, no hanging points.
• Sentinel Event Reduction Door – The first recognized and patented door designed with safety features to prevent inpatient suicides.
• Impact Resistant Polycarbonate Light Lenses and Mirrors – We can fabricate any size.
• Life Safety Lexan Covers (High impact polycarbonate) – Withstand major abuse (field-tested for over 7 years)
• Polycarbonate Two-way MRI Warning Doors – Doors move both directions for easy movement of patients
• Hospital Pharmacy Drug Return DropBox – Made of Polycarbonate – unbreakable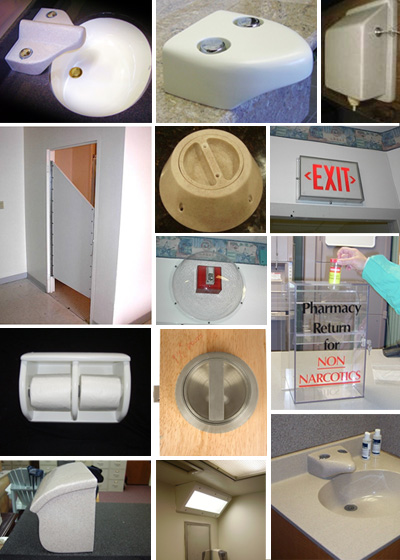 Full-service plastics fabricator and supplier of plastic materials

[ ]

Welcome to Norva Plastics
Norva Plastics has been a full-service plastics fabricator and supplier of plastic materials. With over half a century in the business, we can tackle just about any job with confidence that comes from experience. From a tough prototype to long-run production, whatever your requirement, contact the experienced plastics fabricators first at Norva Plastics.
Norva Plastics provides many services relating to plastics and similar materials. We have 3 high precision CNC machines in house to handle high production jobs or for quick prototype jobs. We also do custom fabrication and also offer vacuum forming services. So contact us now! We look forward to serving you.