L- TEC is a corrosion resistant, low density polyethylene extruded material that provides low moisture permeability; (L- Tec has a fairly low working temperature, soft surface and low tensile strength.) Compression Polymers' L- Tec is a thermoplastic product that has very useful applications where corrosion resistance is an important factor but stiffness, high temperature and structural strength are not important considerations.
Applications
L- Tec is easily fabricated, vacuum formed or welded using special welding rod. The material is used extensively as a 1) Low temperature, low load tank lining, 2) Vacuum formed end caps and tops, and 3) A moisture barrier in construction applications.
Fabrication Characteristics
Thermoplastic preparation for assembly (welding or other fastening methods) is similar to metal fabrication procedures. Pieces are laid out, cut, machined and joined with the same tools, equipment and skills utilized in the metalworking trades. However, there are special forming requirements for thermoplastics not encountered in metal work. Fabrication of thermoplastics includes a wide range of operations on sheet, rod, tube and special shapes to produce finished products. Fabrication involves cutting, sawing, machining, forming, joining or fastening together for the completed object. Machining may include beveling, routing, grinding, turning, milling, drilling, tapping and threading. The degree of skill and the quality of preparatory work in layout and various machining operations on components for fit-up are very important in assuring accurate assembly and successful fabrication. Once the different thermoplastic parts are formed into the proper shape, they may then have to be joined. The type and method of assembly depend on the function of the finished structure. The several assembly techniques include the use of adhesive bonding, self-tapping screws, threaded insets, press fitting, cold heading, heat joined (hot- plate welding, hot-wire welding, induction heating, hot flaring, and spin welding) cementing and hot gas welding. Each operation requires its own tools and equipment.
Standard Product Specifications
Sheet Size 48 in. x 96 in., 48 x 120 in.
Color — Natural
Polish Surface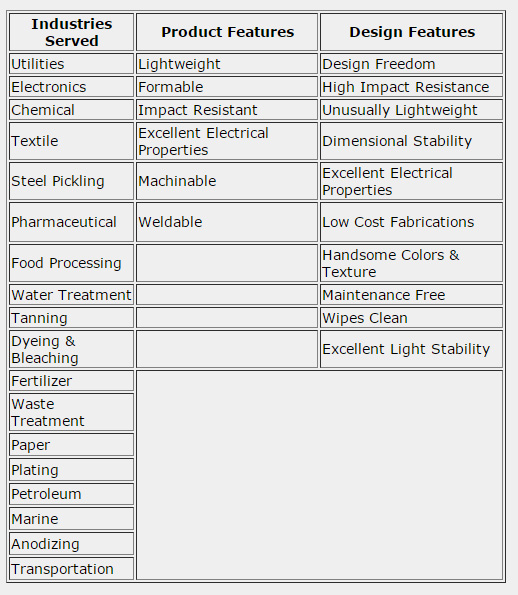 Full-service plastics fabricator and supplier of plastic materials

[ ]

Welcome to Norva Plastics
Norva Plastics has been a full-service plastics fabricator and supplier of plastic materials. With over half a century in the business, we can tackle just about any job with confidence that comes from experience. From a tough prototype to long-run production, whatever your requirement, contact the experienced plastics fabricators first at Norva Plastics.
Norva Plastics provides many services relating to plastics and similar materials. We have 3 high precision CNC machines in house to handle high production jobs or for quick prototype jobs. We also do custom fabrication and also offer vacuum forming services. So contact us now! We look forward to serving you.