PolyCarve is a high-density coextruded thermoplastic- developed for the modern sign maker. Today's sign making technology, with its computerized routing/engraving techniques, demand materials that can be machined, welded and fabricated to perfection quickly and easily. ..and with a minimum of finishing.
Sign makers need a tough, strong material that won't chip or peel during routing. And, since so many of today's applications are for outdoor use, finished signs and billboards must be able to stand up to a wide range of environmental conditions.
Sign makers also need a versatile. thermoplastic sheet- one that will provide them with a maximum of design and graphic options.
PolyCarve is environment-friendly. The most advanced technology is used to manufacture high-quality core layers using recycled thermoplastics. Recycling helps reduce the need for virgin raw material, conserves nation resources, reduces disposal and landfill costs and permits the savings to be passed onto the customers.
PolyCarve available in thirteen colors. Below is some of those color combinations.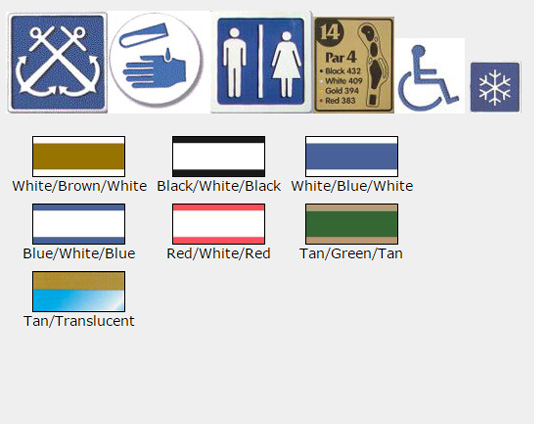 Full-service plastics fabricator and supplier of plastic materials

[ ]

Welcome to Norva Plastics
Norva Plastics has been a full-service plastics fabricator and supplier of plastic materials. With over half a century in the business, we can tackle just about any job with confidence that comes from experience. From a tough prototype to long-run production, whatever your requirement, contact the experienced plastics fabricators first at Norva Plastics.
Norva Plastics provides many services relating to plastics and similar materials. We have 3 high precision CNC machines in house to handle high production jobs or for quick prototype jobs. We also do custom fabrication and also offer vacuum forming services. So contact us now! We look forward to serving you.